In this article you will discover the best unique chess sets in the market. These unique chess sets are both fascinating and completely original. They can only be found on Chess House which is one of the leading stores when it comes to buying chess related products.
When you're searching for a unique chess set you may be surprised by the remarkable variety that exists. To make your life easier, I've decided to put together a list of the best unique chess sets. Hope you enjoy 🙂
Here are the 10 best unique chess sets in 2022:
Man Ray Chess Set – Board and Pieces
Unique Strato Chess
Bauhaus Chess Set – Board and Pieces
Black Berliner On Black Basic Board
Brass Art Deco Men on Red Grain Decoupage Board
Metal Art Deco Chessmen on Storage Chest
Dave Reynolds Surf Chess Set
Large Sterling Silver Biblical Chess Set
Animal Kingdom Exotic Elm Chess Set
Glossy Storage Board with Metal Pieces Chess Set Combo
I only recommend products I would use myself and all opinions expressed here are our own. This post may contain affiliate links that at no additional cost to you, we may earn a small commission.
Best Unique Chess Sets In 2022
1. Man Ray Chess Set – Board and Pieces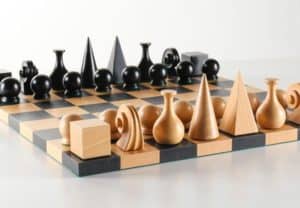 Designed in 1920 and recreated by expert craftsmen from Germany and Italy, these pieces are comprised of abstract geometric forms. Philadelphia-born, Brooklyn- raised, Dada-Surrealist artist Man Ray created sets from 1920 till his death in 1976. The pyramid is the Egyptian symbol of kingship and the cone a medieval queen's headgear. The flagon represented the bishops' tradition of creating exotic liqueurs and spirits.
The knight is fashioned after the head scroll of a violin and the pawns are as tall as the rooks and almost as volumetrically robust as many of the other pieces that are higher ranked to show the increased importance of pawns in modern chess play.
Very few of these original sets are still available for purchase and when they are, they command prices at auctions of tens to hundreds of thousands of dollars. Man Ray is hailed as one of 20th century's most innovative artists. Son of a Russian immigrant tailor, Man Ray's artwork was far ahead of its time so he lived modestly his whole life. His vision was to design a simple, straightforward, but modern and affordable chess set.
Interesting fact, The knight piece fashioned as the scroll of a violin is sourced uniquely from a violin manufacturer in Italy with the expertise and tooling most suited. It's then joined with the rest of the beech wood set made in Germany and finished to perfection.
The beautifully designed chess board was made to compliment the Man Ray chess pieces. Solid beech wood board measures out at 15.75 inches square and was made under license with the Man Ray trust.
Specifications
King 3.25″, base 1.5″
Queen 3.25″, Bishop 2.75″, Knight 2″, Rook and Pawn 1.4″
32 solid beech wood pieces
Board is veneered beech wood, 17″ x 17″ x 3/4″ with 2 1/8″ squares
Price: $640.00 USD (FREE shipping to 48 state in America)
2. Unique Strato Chess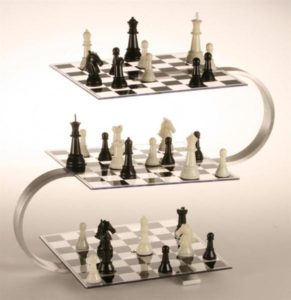 Take chess to new heights! Here's a fun variation of chess to stretch your mind and entertain you for hour
Specifications
12″ overall height
8″ acrylic (lucite) chess boards on three levels
Aluminum S frame
32 Felted plastic weighted chess pieces
King height: 2 3/4″
Some assembly, Instructions included
Price: $39.00 USD
3. Bauhaus Chess Set – Board and Pieces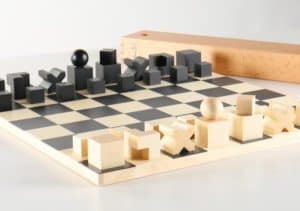 This game of chess with clean lines is typical of timeless Bauhaus style. Josef Hartwig's chessmen, designed in 1923, have characteristically reduced forms which, in contrast to commonly used figures, are symbols based purely on the function and form of the maneuver of each piece.
Cubes, cylinders and balls lead you move by move to checkmate. The perfect chessboard for the Bauhaus chess pieces features a unique border-less design and compliments the pieces really well.
Bauhaus replicas produced by Naef are classics in the true sense of the word. An archaic use of forms which these objects suggest is characteristic of this collection. Products with the Naef logo (placed in the background) stand for the highest precision and quality in wood processing.
Adults and children the world over, are inspired by the harmony of the visible and technical durability of these objects which in turn, encourage creativity and develop the senses during play.
Fascinating, aesthetic, ingenious. The objects possess all these features, yet each one has its own individual character. One first understands this when held in the hand. Apart from the concept behind them, it is the quality of the workmanship which makes Bauhaus play objects so special. Respect for the material, wood and handcrafted with extreme care, result in this unique quality.
Specifications:
Board size: 14″
Square size: 1.75″
32 pieces + storage box
Box size: 17″ x 3″ x 1.5″
King size: 2″
Base size: 1″ square
Made of Maple Wood
Price: $669.00 USD (FREE shipping)
4. Black Berliner On Black Basic Board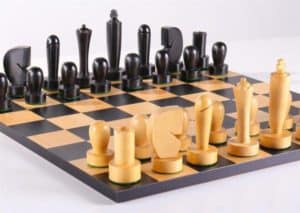 Hand carved wood pieces, weighted and felted with a black and maple chessboard creates a chess set that looks great and plays even better! Buy this beautiful set today and play for years to come.
Specifications
Pieces: 3.88″ King with 1.5″ Base. 37 oz set weight
Chessboard: No frame, 2″ squares
Shipping weight: 11.00 pounds
Price: $192.50 USD (FREE shipping)
5. Brass Art Deco Men on Red Grain Decoupage Board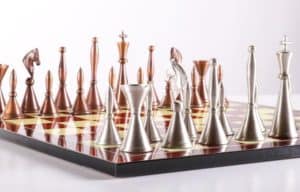 Decoupage, from the French word decoupe, meaning to cut out is an art form that entails pasting paper to an object and then covering them with several coats of lacquer. It is a paper design glued onto wood then heavily lacquered. The end result is a bold design statement, but is not Inlaid onto the board .
The process gives flat cut-outs an appearance of depth and makes patterns and pictures look as though they are actually painted on the decoupaged object.
Solid brass art deco chessmen with a bronze and pewter finish sit beautifully on a red grain decoupage glossy board.
Specifications
King Height: 4″
Board size: 18.25″
Square size: 1 7/8″ (1.83″)
Price: $295.00 USD (FREE shipping)
6. Metal Art Deco Chessmen on Storage Chest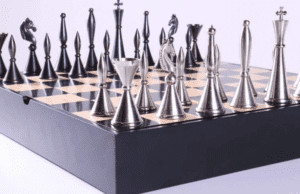 This unique bronze and pewter finish metal chess set combines slender, metal pieces with a sleek high-contrast storage chess board that will bring compliments to your room. At 16.25″ square and 2.5″ tall, the storage chess board provides a great playing surface and storage option. Wooden dividers under the board provide 32 total piece slots.
Specifications:
King Height: 4″
King base: 1.25″
Chest measures 16.25″ x 16.25″ x 2.5″
16 Slots measuring 4.75″ x 1.75″ x 1.25″
16 Slots measuring 2.50″ x 1.75″ x 1.25″
Price: $295.00 USD (FREE shipping)
7. Dave Reynolds Surf Chess Set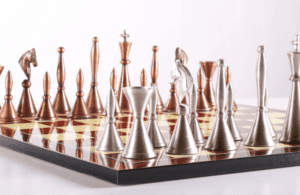 Huntington Beach surfer and artist Dave Reynolds designed and meticulously handcrafts these extraordinary chess sets to exact scale in woods like Hawaiian koa, teak, walnut and California redwood.
A local surf historian with 40 years experience on the board and Exhibits Director at the International Surfing Museum in Huntington Beach, Dave knows his surfboards.
The surfboard outlines and rail contours are made using templates and drawings from the last 100 years of surfboard design. The sculpted portions of the chess pieces are made from cold cast bronze with antique brass and pewter tone finishes. Each piece is carefully weighted has its underside lined with black velvet.
The chess set comes with Dave's custom designed 20″ x 20″ bamboo chess board in maple and mahogany bordered with matching raised trim, chess pieces, hairpin legged table seen in last photo and certificate of authenticity.
A surfer storage chest accompanies each set to store the pieces. And here are the competitors.
The King is the Big Kahuna in Dave's chess set. It's a 7″ tall 1940's redwood and pine Hawaiian plank. Just like the board Duke Kahanamoku rode. The Queen is a 6″ triple stringer 60's style longboard made in basswood with California redwood stringers. Each queen has a cute hand painted lei draped around her board. Bishops are a sleek 5″ Hawaiian koa wood big wave gun.
No horses here. The Knight is 3″ Chevy Fleetmaster Woody with 2 surfboards strapped on top. The Rook is what we call the "shabby surf shack", 2″ ramshackle little building with surfboards and bodyboards. Pawns are fun little skim boards on a rock pile.
Isn't that the most amazing surf chess set. Antique bronze and pewter custom resin bases are combined with both domestic and exotic woods for a remarkable showpiece on beautiful 17″ x 17″ playing surface crafted from birch and walnut inlays.
Price: $192.50 USD (FREE shipping)
8. Large Sterling Silver Biblical Chess Set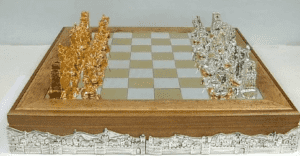 A masterpiece!
A unique large 925 sterling silver (NOT silver plated) biblical chess set, Judaica.
Comprised of 32 highly detailed and outstanding biblical style pieces, 16 made of sterling silver and 16 made of gilded sterling silver.
the pawns are Macabim soldiers
the rooks are small castles
the knights are camels
the bishops are the famous biblical spies carrying a grape cluster
the kings are Moses holding the Decalogue
the queens are Miriam.
The wooden case is beautifully ornamented on the sides with a relief scenery depicting the Holy City of Jerusalem, it is topped by a removable wooden cover, set with a silvered and gilded metal playing board, removable by pressing down on two corners.
This set was made in the electroforming method.
Measurements:
Pawn height: 2.4in. / 6.1cm.
King height: 3.6in. / 9.1cm.
Board: Length: 20.5in. / 52.07cm.
Board: Width: 20.5in. / 52.07cm.
Board: Height: 3.5in. / 8.9cm.
Weight: 7590gr. / 244.024oz.
Marks: 925 for sterling silver and maker
Price: $3,900.00 USD $4,800.00 USD Save $900.00 USD
9. Animal Kingdom Exotic Elm Chess Set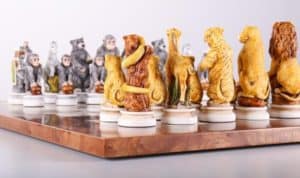 These exquisitely detailed chess pieces featuring breath-taking recreations of the animal kingdom are paired with the exotic hardwood chess board with inlaid elm and root wood. It's a truly remarkable chess set, an exceptional display set that will be enjoyed by anyone who beholds it or is fortunate enough to play the occasional game.
The Italian hand-painted pieces are crafted from Oxo-Teak, a stone like resin that is both durable and exceptional for painting. The inlaid elm and root wood chess board, in its rich golden brown composition is crafted in Spain by one of the world's most respected manufacturers of chessboards.
This chess set is exclusively available here at Chess House where chess pieces are available in the future as parts if they are ever needed.
Specifications
King size (gray): 4 3/8″
King size (yellow): 4 1/2″
King Base: 1 9/16″
King weight: 5.3 oz
Pawn height: 3″
Pieces weigh: 5.7 lbs
Felted
Board Squares: 2 inches
Board Dimensions: 20 x 20 inches
Price: $790.00 USD (FREE shipping)
10. Glossy Storage Board with Metal Pieces Chess Set Combo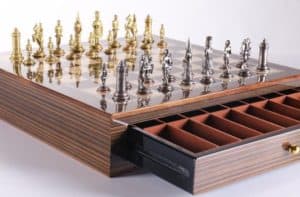 Wonderfully detailed metal set from Italy bears brass and silver finishes.
This 15″ square storage board boasts a high gloss finish and is made of maple and walnut. The inside is lined with velour and offers separate slots for each of your chess pieces. The bottom of the board is also lined with velour to avoid scratching your playing surface. The beautiful hardware is made of solid brass.
Near Italy's Florence, the family of Aldo Marsili runs a wonderful factory, with a finely honed craft of manufacturing awe-inspiring chess sets for over 30 years. In your home, you can now own and enjoy one of their masterpieces, the Gothic Chess Pieces 3 inch solid cast metal chess pieces on the genuine leather chest.
The metal chessmen will not tarnish due to the protective coating and lay comfortably in felted slots inside the leather chest.
You'll own an amazing set di scacchi in metallo (metal chess set) for extra memorable games nights as a couple or with a best friend. And you'll know it comes from a lovely family in Italy who run a model enterprise.
Brought to you as configured and photographed exclusively by Chess House.
Piece Specifications:
King size: 2 5/8″
Base size: 15/16″
King weight: 1 oz.
Set weight: 1 lb. 12 oz.
Board Specifications:
Dimensions: 15.25 x 16.25 x 3.25″
Square Size: 1.625″ (1 5/8″ / 41mm)
Storage Compartments (Per Side):
(8) Slots measuring: 2.75 x 1.38 x 1.38″
(8) Slots measuring: 3.63 x 1.38 x 1.38″
Aldo Marsili established the chess factory Italfama in 1976. Like many successful businesses, Italfama was started as a hobby. Aldo enjoyed playing chess as a young man and he also enjoyed working with his hands. He realized the business potential of his hobby when his first handmade chess set was quickly purchased by one of his friends and his second immediately suffered the same fate.
Aldo has worked very hard with his brother Paolo for 33 years, and during that time the chess collection has grown, including various lines: classical and artistic chess pieces of different designs and materials, faithful reproductions of historical and mythological battles, memorable characters. The pieces are played on inlaid wooden chess boards made of the most beautiful woods, rosewood, maple, mahogany, walnut.
Artist and engraver Aldo Marsili oversees the entire production process for the chess pieces, which uses classical method of wax casting, in the style of Benvenuto Cellini and all the other famous sculptors of the 15th and 16th century. Each piece is fashioned by hand, with gold finish or paint, sculptured or hand-carved.
In the third millennium, Italfama is considered one of the most prestigious and appreciated manufacturers of chess pieces and chess boards in the world. In the last two years two of Aldo's sons, Marco and Tommaso, have joined the factory, and, thanks to their care and innovative ideas new lines have been added with worldwide appreciation and success.
Related Post: Best DGT chess clocks