Metal chess sets of gold and silver color portray historical and imaginative landscapes on the chessboard. These have irresistibly refined showpieces. The presence of such a chess set in one's home invites conversation and begs more than a nod to your intelligentsia. You're not afraid to offer tea and begin a game. Each move is played gracefully on the smooth chessboard, yet with deliberate confidence that flows from such weighty figures.
We bring you these fine carefully curated chess sets from craftsmen in places such as Florence Italy. The language of chess spans all cultures and we believe in finding the world's best chess sets so you can enjoy them in your home.
Here are the best gold and silver chess sets in 2022:
Gold and Silver Greek Mythology Chess Set – 21 1/4″
Gold and Silver Egyptian Chess Set
Chinese Qin Chess and Checker Set with Pewter Chessmen and Storage
Florence Men On Grey Briar Board
Florence Men On Leather Board
[This post may contain affiliate links that at no additional cost to you, I may earn a small commission]
Best Gold and Silver Chess Sets
1. Gold and Silver Greek Mythology Chess Set – 21 1/4″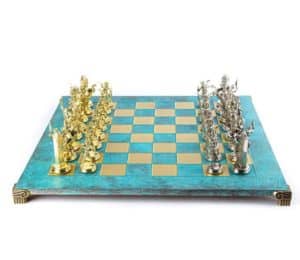 The legend
A glorious city was the bone of contention between two powerful gods. The God of the Sea, Poseidon and Goddess of Wisdom, Athena, each one wanted the city to be named after themselves. The divine conflict was fierce so Zeus declared that each god had to make an offer to the citizens. Poseidon lifted his trident and struck the rock of the Acropolis where sea water burst out. "It will warn you for upcoming storms. Your city will conquer the seas", he said. Athena knelt and touched the ground where an olive tree started to grow. "For food, oil, wood and light. Your city will become the symbol of civilization". Despite the rage of Poseidon, Athena's gift was preferred and ever since the city is called Athens.
The Chessmen
Greek sculptors loved to recreate this divine conflict through their art. The King is a replica of the famous statue "Poseidon of Melos" (2nd cent. B.C.), and the Queen represents the glorious "Athena Promachos" (450 B.C., Acropolis Museum). A bronze Hellenistic statue has inspired the Bishop and the Knight is a part of the marble facade of Parthenon sculptured by Pheidias. The castle is a reproduction of one of the most admirable Attic stele devoted to young Aristion who died in battle. Finally, the Pawn is a bronze statue of a fully armed warrior in 500 B.C.
Specifications
Board size: 21.25″
Full set weight: 19 lbs
Wooden case with storage
Manopoulos gift box
Chessboard: Brass
Chessmen: Zinc Alloy 5
Wooden case: Laminated wood
Price: $455.00 USD ( FREE shipping to 48 states in America)
2. Gold and Silver Egyptian Chess Set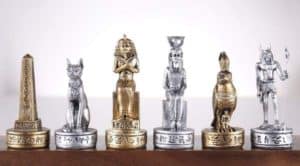 This is an incredible gold and silver colored pewter Egyptian chess set with a beautifully decorated chessboard. The board will transport you to another time in Egypt with its detailed Sphinx characters on each of the four corners. The board also has a convenient storage area for the chessmen.
Board
22″ square
Square Size: 1 5/8″
Pieces
King height: 3″
Base size: 1 3/16″
Price: $329.00 USD (FREE shipping)
3. Chinese Qin Chess and Checker Set with Pewter Chessmen and Storage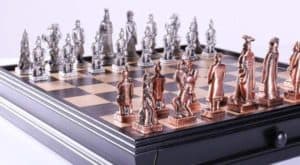 Qin (pronounced Chin) was the first imperial dynasty in China's long and ancient history. Under the influence of the reformer Shang Yang, China was united for the first time under a system that centralized power, established military prowess, increased trade, exalted the rule of law, and decreased the power of the nobility. During the Qin dynasty the Great Wall of China was built and it is said modern China derives its name from this first dynasty.
That world comes alive in our magnificent pewter Chinese Qin Chessmen. Emperors, Concubines, Warriors and of course, The Great Wall are represented in great detail. It's truly a stunning set that you will want to display in a place of prominence. The chessmen come with a gorgeous wooden chessboard with storage drawers for convenient placement of your chessmen.
Our thoughts: These pieces come with a felt underlay on each piece that you, like us, may find is really not adequate for the purpose felts are usually provided, to protect a chessboard surfacing from scratching. You may feel they are fine or you may want to add some felt material on your own. The pewter pieces have an amazing heavy feel and inspiring presence, so it's a pity the felts are less than impressive.
Specifications:
Sculpted Pewter Chessmen – Chinese Qin Theme
King height: 3.27″
Base size: 1.1″
Total weight of pieces: 6.4 lbs.
32 pieces with felt bottom
Board size: 14.75″ and 2.37″ tall
Square size: 2″
Black stained and natural wood board
Inlay border and pullout storage drawer
Price: $284.90 USD (FREE Shipping)
4. Florence Men On Grey Briar Board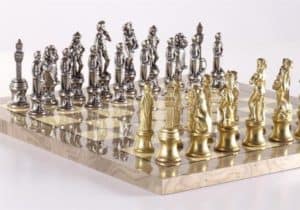 Beautiful sculpted metal pieces and a grey and briar colored glossy chess board, these make one classy combination! Show it off and play the game at the same time.
Specifications:

Board
Board dimensions: 17.3 square
Square size: 1.75
Glossy grey and briar wood
Pieces
King height: 3.25″
King base: ~1″ (actual 0.95″)
King weight: 2.45 oz
Set weight: 32.6 oz
Red thin felted bottoms
32 Chessmen – No extra queen
Shipping weight: 11.00 pounds
Price: $296.96 USD (FREE Shipping)
5. Florence Men On Leather Board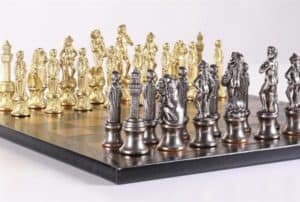 Beautiful Florence themed chessmen, in gold and metallic grey and a pressed leather chess board, these make one classy combination! Show it off and play the game at the same time. Made in Italy.
Board Size: 13″x13″
Square Size: 1.25″
King Height: 3.25″
Base Size: 1″
Chessboard: Black and gold pressed leather
Shipping weight: 9.00 pounds
Price: $277.16 USD (FREE Shipping)
Related Post: Top Metal Chess Pieces